The first customer, the first project always has a special meaning. This is even more true for Kernkonzept: Our first project led directly to the foundation of the company. Reason enough to present SiMKo 3 in more detail here.
It is 2010, and Matthias Lange and Steffen Liebergeld are research assistants at Jean-Pierre Seifert's chair in Berlin when Telekom Innovation Laboratories comes knocking: they are looking for a successor to SiMKo 2.
"SiMKo" ("secure mobile communication") is a specially secured smartphone, a so-called crypto phone, which Telekom has been developing since 2007 for the Ministry of the Interior (BMI) as an alternative to the Blackberry. The first versions ran on a Windows Mobile operating system.
In the working world, the "bring your own device" motto was more and more common, blurring the separation between work and private life. It became all the more important to keep this separation reliable and secure. Jean Pierre Seifert asked whether such a secure smartphone would also be possible with Android and securely separated environments for business and private applications.
From Berlin to Seoul
One way to make this happen seemed to be L4Re. Matthias had become acquainted with this open-source virtualization software as a student at TU Dresden, where it was developed by Adam Lackorzynski and Alex Warg. Together with his colleague Steffen, Matthias built a first SiMKo3 prototype, which they presented at CeBit 2011. Adam and Alex, who continued to work with L4Re at TU Dresden, provided development assistance – informally and unpaid, as is common in open source communities.
The first Cebit prototype was built on an x86-based smartphone. However, to get the necessary low-level access to the hardware, Telekom needed a partner that builds smartphones. The choice fell on Samsung and thus arm as the provider of the processor architecture.
Then everything had to happen very quickly: Matthias and Adam were invited to the Samsung Factory in Gumi, South Korea, virtually overnight. Matthias and Adam still talk about this experience today – especially about the strict security precautions that Samsung uses to protect itself from industrial espionage.
SiMKo 3: the "Merkelphone"

In the same year, SiMKo 3 was launched on the basis of the Samsung Galaxy S2. For Telekom, Matthias developed the smartphone's graphics virtualization with colleagues from TU Berlin and implemented numerous other feature requests – just in time for CeBit 2012.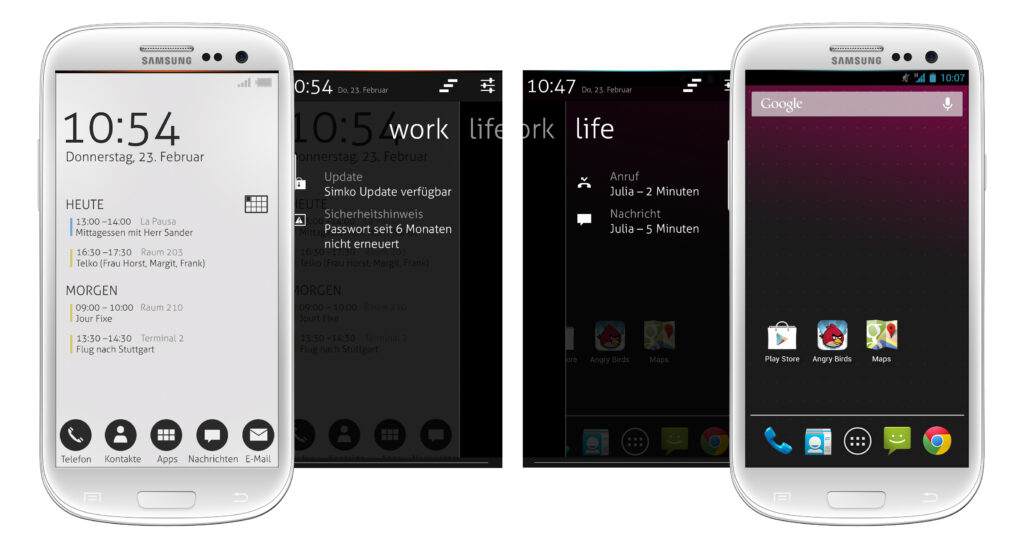 SiMKo 3 got a lot of attention: For the first time, it was possible to use private applications like the camera and WLAN access on a secure smartphone in a detached mode. The L4Re microkernel replaced the commercially available software as a virtualization layer and made it possible to run two operating systems in parallel and in real time. A year later, the SiMKo 3, which by then had been nicknamed the "Merkelphone," received the BSI's secret approval for VS-NfD.
2012: Kernkonzept is founded
Telekom founded its own company for the production of SiMKo 3: "Trust 2 Core". As open-source developers, however, Adam and Alex were hesitant to work here. When companies develop technology from open-source software, it is not uncommon for the software to be discontinued along with the product at some point. L4Re should not suffer this fate.
This is the cue for Michael's appearance: He had already written L4Re's predecessor, the microkernel "Fiasco" based on L4. He joined the team of Dresden developers as managing director – because now nails were put to heads and a company was founded, jointly by Adam, Alex and Michael.
"Trust 2 Core" became Kernkonzept's first customer with SiMKo 3, and in summer 2013 Matthias and Steffen were the first employees.
SimKo 3 was the start of the practical application of our open source software L4Re and at the same time represents its basic mechanism, which we have since successfully implemented in many other applications: for example, in genua's secure laptop vs-top.
As a provider of state-of-the-art, certifiable security software, we have made a name for ourselves over the past ten years and are now one of the best providers in Germany. Deutsche Telekom deserves the honor of having given us the push to start our company with the SiMKo 3. Thank you for that!